Deep Sea Fishing Key West: Make the Great Escape
Deep Sea Fishing Key West: Make the Great Escape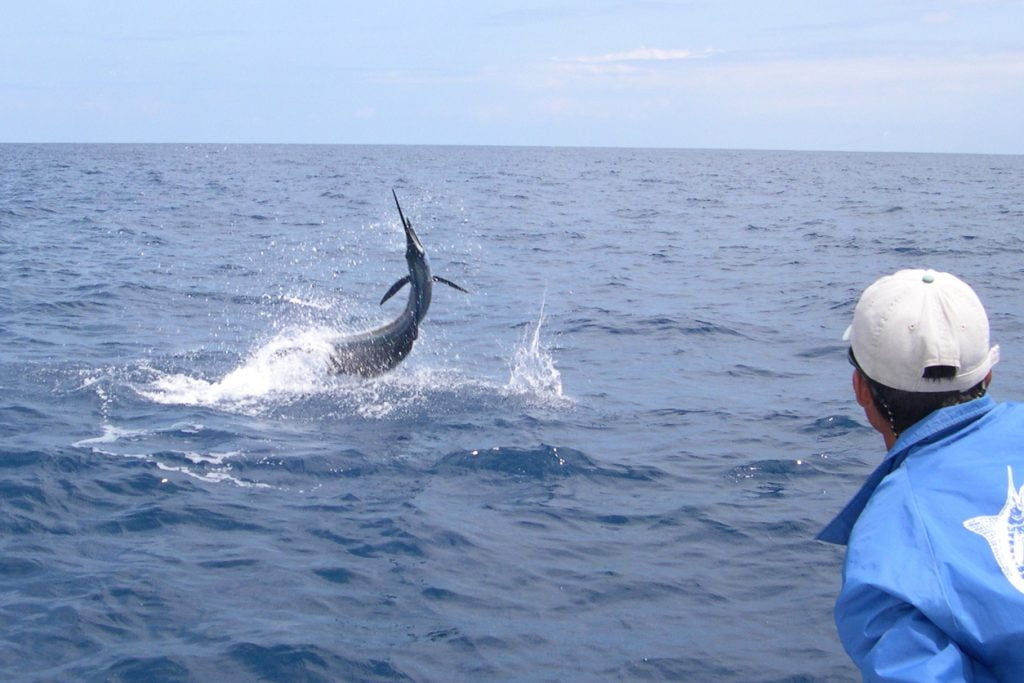 Do forecasts of another winter full of hard-freezing polar vortex weather already have you dreaming about Key West fishing and the endless summer down here in the southernmost isles? Deep sea fishing Key West is a lot more fun than deep snow shoveling in the Midwest.
Although the often calm winds and steady mid-70's temperatures common to November can make it seem otherwise, around this time of year the autumn/winter transition is actually in full effect here in Key West. The winter weather cycle starts up, with cold front systems pushing through from the north at regular intervals, and the days in between fronts marked by returning high pressure, warming winds out of the south, and climbing air and water temperatures.
Unlike in the upper 47 states, where the same pattern dropping off the plains of Canada threatens one cold blast after another along with the miseries of heavy snow and dangerous ice, the cold fronts down here bring red-hot fishing action. Cooling air and water along with very abundant bait schools combine to send Key West sport fish of nearly every species into feeding frenzies.
Go Offshore for November Key West Fishing Adventures
In the fall, Key West charter boat captains often have good luck getting on the Sailfish, Blackfin Tuna, Mahi-Mahi, and Wahoo that hunt the deeper waters just outside the Florida reef. With autumn water temperatures usually staying in the 70s and a strong Gulf Stream current pulling in close to the reef and sweeping the ballyhoo in along with it, the open water gamefish begin schooling and feeding very actively along the outer reef edge.
When the south winds kick in between fronts, the Mahi-Mahi come around in good numbers. Anglers can get into batches of fun to fight, good to eat schoolie fish along with some bigger fish up to 20lbs or so. The Wahoo are a bit more fickle, but the November full moon usually brings on a strong bite as these blazing fast open ocean predators arrive on the trail of schools of small Bonito, or Little Tunny. November also marks the early weeks of the Sailfish migration and we start getting reports of multiple releases on big Sails.
A little closer in over the reef, and on the wrecks and patch reefs, November inshore trips can produce steady action on Black and Gag Grouper, Mutton and Yellowtail Snapper, and Cero Mackerel. Cooling weather makes these table fish become more active, and they move to shallower water in pursuit of mahua, mullet, pilchards, and other baitfish. When the Yellowtail are in feeding mode and up shallow in 20-40 feet of water, they can often be caught on plugs or jigs, with no chum needed. All fish in the Snapper family are easy and fun to catch. They are very good to eat, and many Snapper fisherman go home with bags full of nice fillets.
Take Shelter in the Backcountry
When the fronts roll through and the water offshore gets a little to sporty, wise anglers hop on a Key West Backcountry fishing trip. The Keys Backcountry produces much of the legendary Key West light tackle fishing that so many avid fishermen come south to find.
The Backcountry becomes a hot zone as the baitfish schools look for warmer water and shelter from the stronger winds and currents of the fall. Sea Trout are one of the winter specialty species found over the Backcountry grass beds from about October on. Trout running up to about 25 inches are plentiful, and they bite well on live bait or soft artificial baits.
Sea Trout are good for easy family fishing because simply drifting bait back under a bobber will often be all it takes to get a hook up. When going after Sea Trout, it is common to run into a wide variety of other species as well. Ladyfish, Jacks, Mackerel, Pompano, and even Sharks are likely to grab your bait before a Trout can get to it.
Mangrove Snapper are another fast-action family fun fish on the Backcountry menu. Although Mangroves are always around, when fall brings big schools of bait being swept on the tide through the channels off the edge of the Flats, these good-eating Snappers school up and lurk around structure on the sides and bottoms of the channels. They are waiting for an easy meal and are ready to hit any bait that drifts past.
Get Out the Medium-Heavy Tackle
For anglers looking for more fight in the Backcountry, your captain can put you on the wolf packs of big Jack Crevalle that hunt the bait schools across the shallows. Jacks can be sight-fished with live bait or top-water plugs. Their explosive hits and hard fights are good for some real excitement. Fighting the ever-present Sharks is another challenge beloved by Backcountry anglers. Autumn brings plentiful numbers of Blacktip, Bonnethead, Lemon, and Spinner sharks in to work the Backcountry for a meal.
The Backcountry staple Barracuda will take a few days to get used to the cooler water a front brings in, but as the weather warms back up these toothy trophies can be spotted in groups absorbing the warmth of the sun in the shallows around mangrove islands. Barracuda are a lot of fun to catch on a simple tube lure, a top-water plug, or even on a fly with a fast retrieve.
Barracuda can be sight-fished, or an angler can just cast around structure that is likely to hold this ambush feeder. Speed and flash are all the ingredients needed to draw a Barracuda strike. They are aggressive predators, will often attack a hooked fish, and can put up an impressive fight with lots of jumps.
Stop Wishing and Go Key West Fishing
The late fall transition to winter really offers what some fisherman consider to be the best of Key West action fishing. No matter what the weather and wind are doing, or whatever particular objectives an angler might have, there is so much good fishing happening now that success is as guaranteed as it gets in fishing.
Add in the benefit of escaping what seems to be a trend toward colder, harder winters up north, and you just cannot beat a Key West fishing trip for all around enjoyment and value for the money. Use Fish Key West for convenient, secure booking and reserve your spot now!
Read More
Based on our booking data from the past 30 days, this charter is likely to sell out through Fish Key West.

Tournament Tested This fishing charter is popular and consistently gets 5-star reviews.

Based on our booking data from the past 30 days, this charter is likely to sell out through Fish Key West.

Tournament Tested This fishing charter is popular and consistently gets 5-star reviews.

Based on our booking data from the past 30 days, this charter is likely to sell out through Fish Key West.