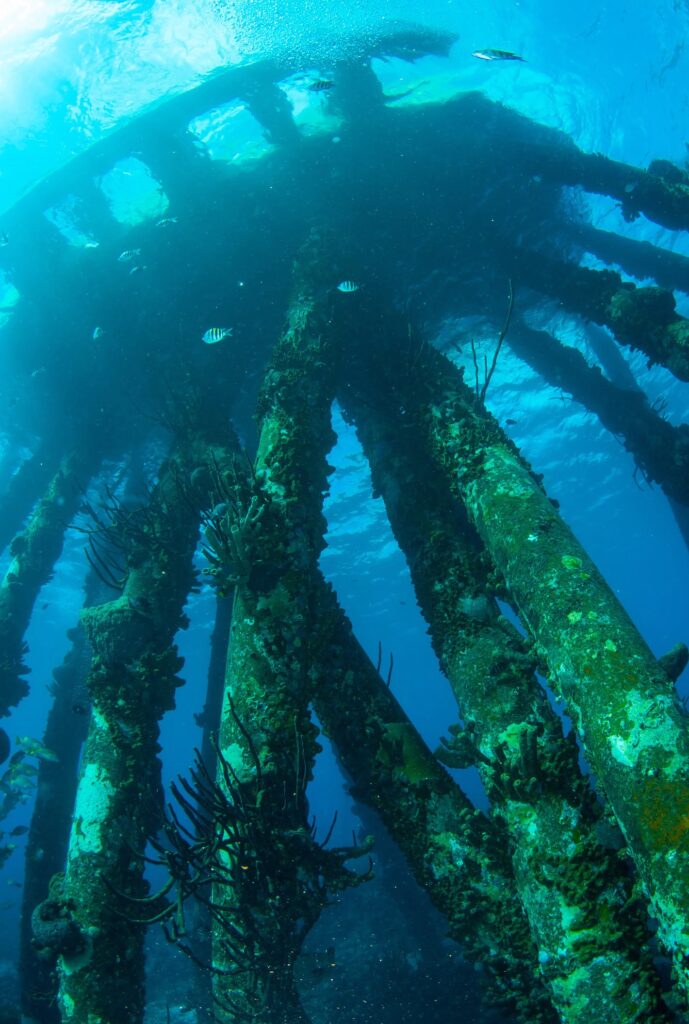 The Gulf of Mexico Towers are huge US Air Force radio relay towers scattered along Florida's western shoreline from the Panhandle to the Keys. Lying anywhere from 10 to 20 miles offshore – well beyond the 9-mile state line marine limit – the 14 now-unused towers sit in depths of 35 to 110 feet of water.
Each tower is supported by 5 enormous round steel legs that angle at 45 degrees from just below the water line down to massive concrete pads on the seabed.  The towers sit on a broad, empty seafloor plain that is nearly devoid of fish-holding structure. That's why the underwater portions of the towers are fish magnets that draw huge numbers of fish, including large schools of big pelagic game fish and hundreds of giant Goliath Groupers.
The towers are so distant and isolated that few sportfishing boats visit them. Moreover, to legally fish and keep any catch in the federal waters in which the towers stand, a Federal Gulf of Mexico Charter Boat Fishing Permit is required. Only a few Key West Charter Fishing operators have the experience and expertise it takes to get the Federal Permit and take advantage of the pristine fishing grounds that lie around the towers.
Dropping bait into the sheltered waters around the legs of the towers all but ensures fast action and a bountiful catch of bottom fish like Snapper, Spadefish, Grouper and more. Fish that like to hunt above and around deep-water structure – Permit, Jack Crevalle, Cobia, and Great Barracuda – are present in large schools. The big pelagics including Sailfish, Kingfish, and Wahoo move through in season, and several Shark species are common.
There are plenty of fish on any of the Towers in every season, and uncrowded waters mean light fishing pressure, plenty of fishing space, and endless numbers of hungry gamefish waiting below. Hooking up with a properly-licensed captain and taking the long run out to one of the Gulf Towers offers one of the Florida Keys' best sportfishing experiences.
Read More