Fishing for Mutton Snapper in Key West
Fishing for Mutton Snapper in Key West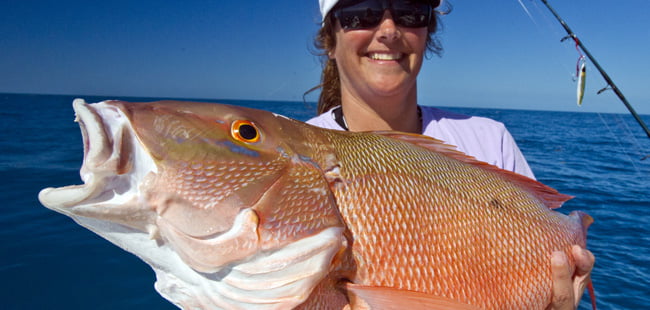 Key West Mutton Snapper are a seasonal catch, arriving in May and June each year to spawn under the full moon in the shallow waters near Key West. They are beautiful fish, with olive-tinted backs, red side and tail fins, and bold striping. Commonly running to 15 lbs. or more, Mutton Snapper hunt the reef for baitfish, shrimp, crabs, squid, and snails. Mutton Snapper is known as harder fighters than other members of the Snapper family, and they make excellent eating fish as well.
It takes local knowledge and experience to hit the Mutton Snapper spawn right, and our Key West Charter Fishing Captains know when the time is best to put their clients onto a great evening of fishing under the stars. Techniques change with the currents, tides, and weather, and the Mutton may be hitting on ballyhoo, pinfish, herring, minnows, or shrimp. Chum is sometimes used to attract the fish and heat up the action. When the Mutton fishing is hot, you will catch fish after fish as the spectacular colors of the Key West Sunset spread across the sea and the full moon rises.
Read More
Tournament Tested This fishing charter is popular and consistently gets 5-star reviews.