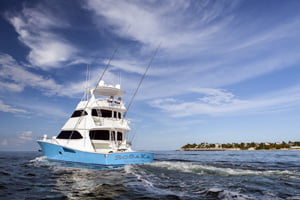 Key West Florida is a small island lying in the Straits of Florida 129 miles southwest of Miami, Florida and 106 miles north-northeast of Havana, Cuba (24°33′33″N 81°47′03″W). Key West is at the southernmost tip of the Florida Keys, and the city of Key West is the southernmost city in the continental United States.
The island is positioned between the waters of the Gulf of Mexico to the north and the Atlantic Ocean to the south. This gives Key West one of the most diverse and prolific fisheries on the planet. An important factor in this is the transport of warm water north into the Gulf of Mexico by the Yucatan Current. This water circulates around the Gulf then drops south along the western shoreline of Florida before bending around the end of the Keys then emptying eastward through the Straits of Florida and into the Atlantic as the Gulf Stream.
Different water temperature zones shift and blend around Key West and along the Florida Reef that runs parallel to the Keys about 6 miles offshore to the southeast. A heavy load of plankton is carried on the warm current and forms the basis of a very abundant food chain. These are the features that draw the multitude of gamefish species that live in or migrate through the Atlantic near-shore waters off of Key West.
The shallow inshore waters inside the reef, the warm, northeastward-flowing Gulf Stream waters further offshore, and the much deeper and cooler Atlantic Ocean waters beyond offer anglers an infinite selection of pristine fishing grounds frequented by reef and wreck-dwelling species, deep-water bottom fish, and the famous large pelagic big game species including King Mackerel, Mahi-Mahi, Marlin, Tuna, Sailfish, and Swordfish.
With this combination of accessible waters, huge variety of marine biosystems, and multitude of resident and migratory fish species, the Atlantic Ocean fishery off Key West has earned an international reputation as a fisherman's paradise. Key West fishing is a truly unique and amazing phenomenon, and the local waters have produced over 600 International Game Fish Association world records.
Read More
Tournament Tested This fishing charter is popular and consistently gets 5-star reviews.

Tournament Tested This fishing charter is popular and consistently gets 5-star reviews.