Key West Fishing – It's Summer Slam Season
Key West Fishing – It's Summer Slam Season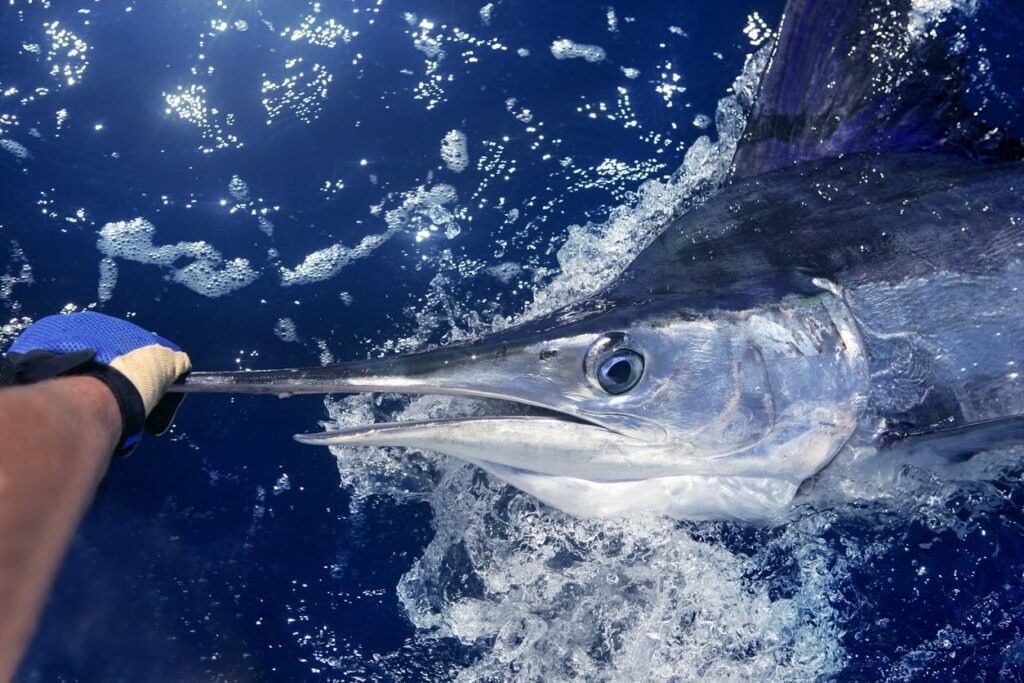 August is usually dependable for providing simmering hot days with the light wind and gin-clear water that get fly fisherman out on the Key West Flats in pursuit of wily Bonefish and Permit. It is not unheard of to see a few scattered afternoon thunderstorms and showers, but calm waters generally prevail as the Keys enter their official offseason.
Other than the burst of traffic around Labor Day weekend, the fishing pressure is generally slack this time of year. Having less of a crowd in town and fewer boats on the water gives a boost to fishing conditions and it is easier to get good holes to yourself.
Chasing the Keys Grand Slam
The traditional Keys Grand Slam, now renamed the Florida Grand Slam by the Florida Fish and Wildlife Conservation Commission as part of their Saltwater Angler Recognition Programs, is defined as the catch and release of a Bonefish, Permit, and Tarpon within a 24-hour period.
For many years the holy grail of Flats fishing, getting a Slam is certainly difficult but quite possible for a skilled angler with the help of a good captain possessed of intimate knowledge of the fish and their Backcountry and Flats habitats. Because weather and water conditions must also cooperate to support a successful effort, the hot, still summer months are prime time for chasing the Grand Slam.
As is normal for August, Bonefish and Permit are being caught on the Flats. Mornings are the ideal time as anything more than a light breeze starts to work against good sight fishing conditions. With the primary March-June migratory Tarpon season over, it can take a bit of work to locate the Silver Kings. A good strategy for August is to get out before sunrise and work the edges of the Flats where they drop off into the channels.
Soft artificials and plugs like the Bagley Finger mullet are effective on summer Tarpon, and live crabs or crab-pattern flies work almost anytime. Similar flies can be used on the Bones and Permit, and these fish also respond to live crabs and shrimp.
Grand Slam purists might stipulate that all three species should be taken on a fly rod, but any way you can get the fish to the boat qualifies you for the FWC Recognition Program. Beyond the prizes and raffle, a Slam is a very nice fishing accomplishment. In fact, just getting two out of the three species in one day is something to brag about.
Hot August Key West Fishing From the Backcountry to Offshore
Key West Backcountry fishing can change from day to day in the summer. A cooling afternoon rain shower or a cloudy sky makes a big difference. Water temps are the key. In the shallows and close to the mangrove islands the water can reach temperatures in the mid 90s. Most fish do not like high water temps, so finding cooler water is crucial to summer Backcountry success.
The Great Barracuda is one fish that can be counted on when it's hot. Big Barracuda are often seen up in shallow water sunning themselves in the morning, and they will lurk in ambush along the Flats edges and in the shade of mangrove islands as the day goes on. In these conditions, you can have fun with Barracuda on top water lures in the Backcountry and over the patch reefs on the Atlantic side of Key West.
Another way to beat the heat is to run out for some offshore fishing. Out on the reefs and wrecks we often get a strong August Snapper bite, and Yellowtail, Mutton, and Mangrove Snappers are available year-round. Fishermen who want to get their hooks into some delicious true American Red Snapper eagerly watch the summer calendar for the annual 3-day Federal water open season on these highly prized and protected fish.
Fishing Snapper on light tackle is a lot of fun, and it is great for the kids because once you get schools of these fish chummed up, the bite can go non-stop until limits are reached. Definitely not boring and the bonus is delicious fillets for summer fish fries.
Key West Marlin Fishing
August deep sea fishing out on the edge of the Gulf Stream is good for most of the classic big game species. Mahi-Mahi season is in full swing and lots of small fish as well as a few trophies in the 50-pound category get hung up along Charter Boat Row in the afternoons. The trick is to find the floating clumps of weed and debris that shelter baitfish and draw the Mahi. Bonito and Blackfin Tuna are also active in the summer Atlantic, and fast trolling with lures will produce some nice Wahoo.
This is also the time to search for both Blue and White Marlin in the deep waters beyond the Florida Reef. The heart of the Florida Keys Blue Marlin grounds lies 19 miles south of Key West at a spot called Wood's Wall. The bottom here drops sharply from a few hundred feet down to the 2,000 foot-plus depths of the Florida Straits.
The Wall was discovered in the late 1970s by Key West charter captain Norman Wood. Now, it's the area where sportfishing boats troll lures or big live baits like schoolie Mahi-Mahi, or small Bonito, Skipjack, and Blackfin Tuna in a quest to hook up with the classic gamefish that drew Ernest Hemingway out to the waters between Key West and Cuba.
In Key West waters, the Blues tend to run around 250 pounds or less, but across the straits near Cuba fish in the 400-pound range are fairly common. It takes patient trolling to come up with one of these legendary fish, but getting a hook-up and strapping into the fighting chair for a battle that lasts an hour or more is the fishing memory of a lifetime.
Catch Some Fun in Summertime Key West
August is a good all-around time for a Key West visit. It's hot and humid, but that makes perfect pool and beach weather, and the water offshore is usually clear during this part of the year. That means snorkeling and scuba diving are viable options if you want to put together a combination trip.
Take advantage of reduced crowd levels and off-season pricing with an August Key West fishing trip. Plan ahead and book early through Fish Key West and you can have charter boats reserved and eTickets on your phone in minutes with no worries at all.
Read More