Key West Reef Fishing Stays Hot in July
Key West Reef Fishing Stays Hot in July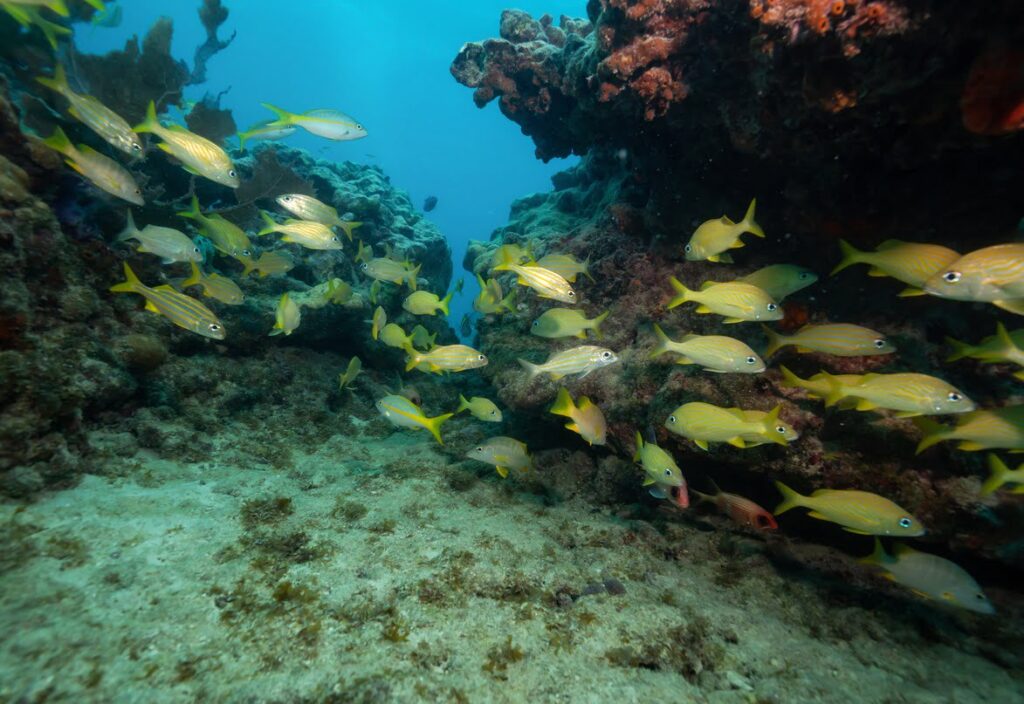 July in Key West means temperatures typically locked into the upper 80s to low 90s, with occasional afternoon thundershowers rolling through. The weather is perfect for fishing – the high humidity and many nearly windless days make getting out on the water and catching the ocean breeze the obvious option for cooling off.
The water is often dead calm in July. This opens up a lot of good fishing opportunities because the Key West fishing charter captains are able to run anywhere they want at high speed. Anglers can get a chance at remote spots like the Gulf Towers, Dry Tortugas, and Marquesas where the fishing pressure is lighter and fish of nearly all species tend to run bigger. When the boat is not bouncing around on chop it is also much easier and more comfortable to run the 6 miles from Key West out to the reef or the Atlantic and Gulf wrecks.
July Key West Fishing Fun on the Reef
Reef fishing is a great call in July. The low wind conditions make the reef an easy run in the afternoon when the heat tends to shut down fishing on the Flats and other shallow areas. The Mangrove Snapper spawn happens during this time of year so these fish are gathered in huge schools at different spots on the reef. Chumming them up to the boat and tossing live pinfish to them will fill a cooler fast. Shallow areas on the reef are ideal for throwing artificial lures: plugs for surface action and buck tail jigs to get a bit deeper. Barracudas, Groupers, Jacks, and various Snappers all respond to this technique.
The mainstay of the reef, Yellowtail Snapper fishing, can also be excellent in July and it is common to see limits of large "Flag" Snappers coming into the marina. Yellowtail are in the top ranks of eating fish, and many successful fishermen carry a few fillets straight from the dock to their favorite restaurant, where the cooks are happy to make super-fresh fish part of a delicious dinner.
And speaking of tasty treats from the reef, the Keys Lobster Mini-Season goes off the last consecutive Wednesday and Thursday in July. The mini-season is intended to give sport fishermen a chance at some the Keys' famous Spiny Lobster before the commercial boats go out on August 6th. People flood coastal Florida and the Keys for the Mini-Season, which begins at 12:01 am on Wednesday and ends at 12:00 midnight on Thursday.
For a great day on the water, book a lobster and reef fishing combination trip. Start the day by getting in the water with mask and snorkel to hunt down up to 6 lobsters for each person. There are a few tricks to catching these spiny critters, but your crew will be happy to show you the ropes. Once you have a few lobsters in the cooler, go reef fishing. The action on the reef is usually fast and fun, and in no time at all you can collect a selection of good eating fish to go with some lobster appetizers at dinner time.
Drop a Line on the Wrecks
The sunken wrecks off the Gulf and Atlantic shores of Key West also produce well in July as fish look for deeper, cooler waters. Dropping live bait works well, but jigging is also a possibility. Mid-summer Amberjack, Cobia, Mutton Snapper, Permit, Yellow Jacks and more usually come into the dock in good numbers around this time.
For big bottom fish, take advantage of the good weather to run out to the Atlantic offshore deep wrecks. These isolated wrecks attract large schools of bait fish and generate steady fishing action on predators like Blackfin Tuna, Bonito, Kingfish, and big Mutton Snapper. Your captain may have you drift a live pilchard over the wreck, or you might anchor up and drop a jig tipped with a bit of shrimp or cut bait down deep. Sharks can sometimes be a problem in these deep waters, so you will need to crank your fish up fast if you don't want to share them.
Cool Off with Some Hot Key West Fishing
Although summer is considered the slow season here in Key West, there is plenty of good fishing to be had. The weather is on the hot side, but that is balanced by calm wind and water conditions that make for pleasant fishing. It is a good time of year to explore – Try some remote fishing spots, get in the water after some Lobster, or just enjoy sitting on a stable boat in still water over a wreck cranking up fish all afternoon.
As mid-summer winds into August in the Keys, you will want to book your trip soon because many Key West charter fishing captains go on vacation in August and September. Do it now with the convenience of fast, secure online booking brought to you by Fish Key West.
Read More