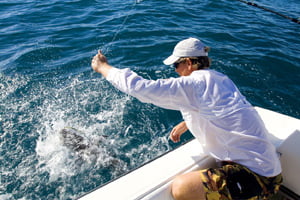 May marks the start of summer for Key West sportfishermen. Hot weather and glassy conditions are the norm, making it easy to do long offshore runs to prime fishing grounds. Many fish are gathering on the reefs for summer spawning activities and Grouper season opens so it's a great time of year for fun family fishing trips.
May Fish Species
Many fishermen will be going after the large schools of Mutton Snapper that gather on the reefs for their May-June spawning season. These beautiful fish reach impressive sizes and go on a hot bite around the May and June full moons. Tarpon on the Flats call fly fishermen to one of the greatest challenges in light tackle fishing.
May Weather Outlook
Cloud cover and precipitation increase rapidly in May as the tropical monsoon season comes on and the chance of afternoon showers goes up to 44% by the end of the month. Some clouds can be a relief as average daily highs stay in the mid-80s. Average wind speeds of only 10.8 mph make for pleasant boat rides and good fishing conditions. The Flats see many glassy calm days during this month.
Read More