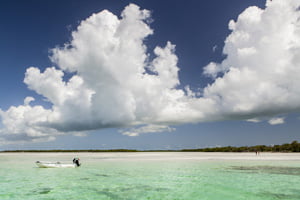 The Florida Keys stretch south then west of the tip of the Florida Peninsula. The Lower Keys end in the Dry Tortugas islands 70 miles to the west of Key West. The string of inhabited and uninhabited islands, sandbanks, and shallow water zones that comprise the Lower Keys effectively divide the open waters of the Gulf of Mexico from the Straits of Florida that run between Cuba and the Keys, linking the Atlantic Ocean with the Caribbean Sea and the Gulf of Mexico.
A Natural Boundary
About four miles off the northern side of Key West, laying in a rough line that marks the drop off into deep Gulf waters to the north, is an east-to-west oriented stretch of sand bars and channels that parallels the Keys up to the area of Marathon Key. Between this barrier feature and the shorelines of the inhabited Keys lies a large expanse of shallow water. The water is mostly 10 feet in depth or less, with extensive areas of coral hard bottom as well as sand and grass bottom structure.
The Key West Backcountry
Cut by relatively deep channels, some of which directly link the Gulf with the Atlantic waters to the south of the Keys, and scattered with uninhabited mangrove islands, this protected and pristine marine wilderness area is the Key West Backcountry. A similar expanse of structure that is the location of the Key West National Wildlife Refuge lies just to the west of Key West. This area and the uninhabited Marquesas Keys further west are also sometimes referred to as Backcountry. Strictly speaking though, the Backcountry is comprised by the shallows on the Gulf side of ("behind") the Keys.
The shallow-water Flats, channels, and basins of the Key West Backcountry are incredibly rich and easily accessible sportfishing grounds. Barracuda, Bonefish, Cobia, Grouper, Permit, Snapper, Shark, and Tarpon are just a few of the rod-bending gamefish species that offer fun and excitement to thousands of Backcountry fishermen each year. Besides being a fishermen's paradise, the Key West Backcountry is the location of major marine wilderness preserves. It is an incredibly scenic area that serves as a haven and breeding ground for innumerable species of birds and marine life.
Read More
Based on our booking data from the past 30 days, this charter is likely to sell out through Fish Key West.

Tournament Tested This fishing charter is popular and consistently gets 5-star reviews.

Based on our booking data from the past 30 days, this charter is likely to sell out through Fish Key West.