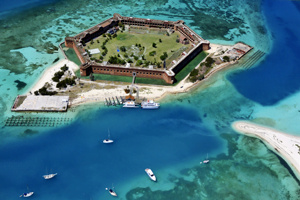 The Dry Tortugas are seven small islands lying nearly 70 miles to the west of Key West. The islands are part of the remote Dry Tortugas National Park, 100 square miles in size and mostly comprised of clear, blue water over coral and sand bottom. The park is world famous for Fort Jefferson, a 19th-century military emplacement, as well as extensive coral reefs, abundant marine life, and a vast assortment of bird species.
The huge variety of underwater terrain and fish species around the Dry Tortugas offer fishermen an incredible chance to experience nearly untapped fishing waters. A real angler's paradise, the Dry Tortugas are surrounded by shallow and deep reefs, wrecks, deep ledges, and deep drop offs. Depending on the weather and the season, many types of surface and bottom fishing are possible, as is trolling for Mahi-Mahi, Sailfish, Tuna, and Wahoo.
The number of fish species in these waters is incredible, and it is common to limit on Cobia, King Mackerel, Permit, and Snapper including Mangrove, Dog, and Mutton varieties. Grouper of several types are found in the Dry Tortugas, including the huge Goliath Grouper that inhabit the deep wrecks.
A Dry Tortugas fishing trip is a true wilderness saltwater sportfishing adventure. Since nearly half of the park waters are closed to fishing, the fishery around the islands is guaranteed to remain robust for years to come, and the fishing grounds just outside the park boundaries offer plentiful opportunities to find your trophy. The Dry Tortugas have already produced many IGFA World Records, and you may well hook the next one.
Read More