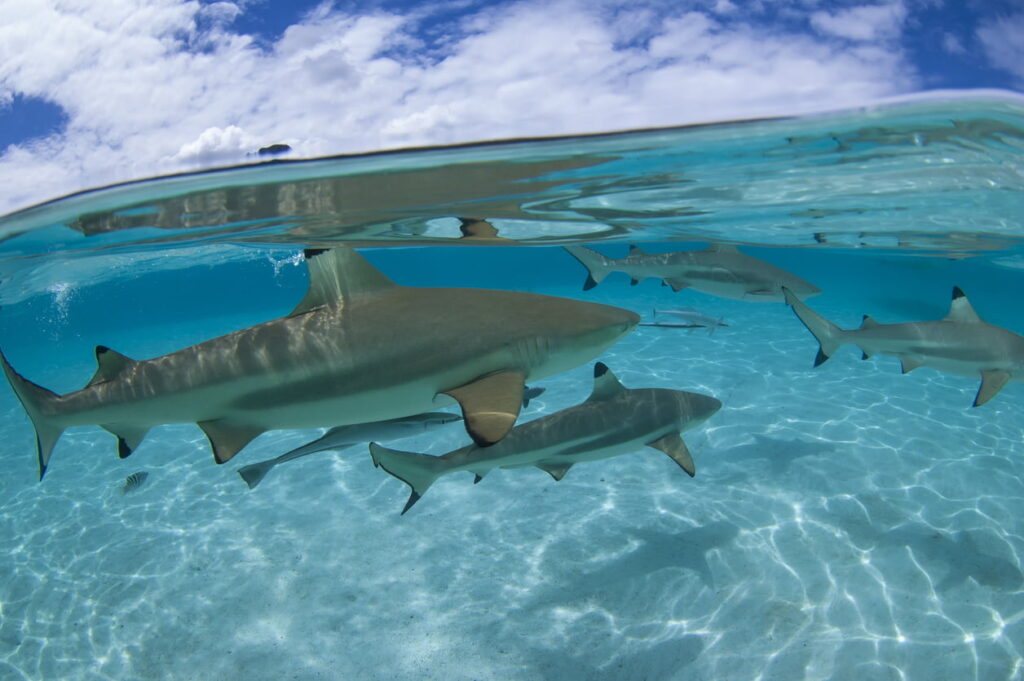 The dog days of mid-August are on us here in Key West, with day time heat and humidity levels that leave the water as the only option for relief outside of a generously air-conditioned bar. Luckily, both options are very readily available and work out fine to turn August in Key West into an enjoyable time of the year.
The Key West summer naturally prompts thoughts of Ernest Hemingway and other legendary and notorious Key West fishermen of the early 20th century. These men and women were on the scene in the pre-air conditioning days and managed to make a famous good time of it. One can assume that long days at sea with a fishing rod in hand and long nights in the local saloons contributed to their success.
It might be a good idea to follow in the footsteps of Hemingway, Bing Cosby, Lee Marvin, several U.S. Presidents and many other celebrities who journeyed to Key West for the summer fishing season.
Enjoy Ethical Key West Shark Fishing Adventures
Visitor attention moves away from the Key West Backcountry fishing scene as Tarpon fishing typically slacks off rapidly in the heat of full summer. When mid-August approaches, more and more Silver Kings leave the Keys Backcountry on their annual offshore migration. A few resident fish remain hanging in the basins and channels, but they get hard to find. Dedicated Permit and Bonefish anglers still run to the Flats, but these are typically highly-skilled technical fishermen and they rarely add up to a crowd.
On the other hand, Key West locals know that the Backcountry Shark bite turns on in the hot weather. All you need is a little bloody chum to get Lemon and other Shark species circling the boat and eating nearly anything thrown at them.
Key West Shark fishing is as close to guaranteed fishing action as you can get, and a lot of happy anglers go home with tired arms after battling big Sharks on light gear. It is not unusual to see Sharks pushing 600lbs in Key West waters, and there is quantity as well as quality. The waters are literally Shark-infested, and anglers may tangle with Black Tip Reef Sharks, Bull Sharks, Lemon Sharks, the awesome Hammerhead, and even the occasional Tiger Shark.
It is great fun to catch Sharks and you get some wonderful photo ops. However, it is important to note that the Key West charter captains are not the "Shark Hunters" of the bad old days or the old television series of that name. Most serious Key West game fishermen now realize the importance of the Shark as a keystone ocean predator. Sharks have been around for nearly as long as there have been oceans, and they are a biological link that ties into the survival of nearly every other species in the sea.
Like lions on the African savannah, Sharks cull the sick and weak members of various prey species, keeping fish stocks healthy and balanced. On any Fish Key West charter, you will see Sharks fought sportingly on light tackle then released unharmed and healthy. This not only ensures the continuing availability of good Shark fishing, but also helps keep the marine ecosystem as a whole in good condition.
August Thundershowers Stir Up a Storm of Good Fishing
In August, we commonly get summer thunderstorms ignited when cool air pushes down from the north and clashes with the hot equatorial air mass that sets up over the Lower Keys. The hot and stormy weather can lead to rough water, but is good for the summer fishing.
Heavy rain showers and gusty winds mix up the thermal layers in the water on the Flats and activate the fish. Both Tarpon and Bonefish often respond to these conditions by feeding actively. Out in the Gulf Stream, extra debris is pushed around, attracting numerous species including Mahi-Mahi, Marlin, Tuna, and Wahoo. On the reefs and wrecks, the storms can make the water murky, forcing the fish to bite more indiscriminately and making it easier to catch a delicious dinner.
These August thunderstorm setups can lead to some of the best summer Key West Backcountry fishing. We get big Mangrove Snappers biting hard on live bait, with some fish going to the 10-pound range. Hook-ups on a few Mutton and Yellowtail Snappers keep a good mix in the fish boxes. On top of that, Grouper season is in full swing, and with many of the baitfish and bottom-dwelling creatures stirred up and moving, a wide variety of Grouper species are pulled aboard.
Summer Means Classic Key West Marlin Fishing
Summer is the peak season for Key West Marlin fishing. These powerful, beautiful, and elusive fish have long been considered the Holy Grail of deep sea sportfishing. Many celebrities and some of the world's greatest fishermen have come to Key West on the hunt for Blue Marlin, the biggest of the two common Marlin species: Blue and White Marlin.
Blue Marlin are some of the largest fish in the world. Females are bigger than males and have been known to reach 14 feet in length and weigh over 1,900 pounds. The average fish caught and released around Key West measures around 11 feet and 200 to 400 pounds. Blue Marlin are most readily identifiable by their prominent dorsal fin and long spear-like bill. They have a striking cobalt blue back and silvery-white sides. Like many pelagic predatory fish, Marlin can rapidly change color, and blue or silver camouflage stripes appear and disappear on their sides.
Marlin spend their lives far out to sea and migrate hundreds or thousands of miles throughout the year. White and Blue Marlin are sometimes encountered along the Keys on the outside of the Florida Reef, but the best Blue Marlin grounds are in deep waters 19 miles south of Key West. This is where a sharp drop-off known as Wood's Wall plunges the bottom depth from a few hundred feet to over 2,000 feet in a very short distance.
If you come down for some Key West Blue Marlin fishing, plan on spending the day pulling lures or large live baits like Bonito or Blackfin Tuna along the waters over the drop-off. Marlin love small Mahi-Mahi, and a few lucky fishermen each year have a giant Marlin follow their hooked Mahi in to the boat.
Have Some Key West Summer Fishing Fun
A summer fishing vacation in Key West or an offshore trip to highlight a cruise ship stop at the island are both great ways to make lifetime memories. The summer fishing is holding up well as we head toward the last couple weeks of August, and there are plenty of different fishing possibilities to satisfy the preferences of fishermen at every skill level.
Go out trolling for Blue Marlin, fish the reef, or match your strength against a hungry Shark. Fish Key West offers easy access to the best Key West fishing charters on the water. Book your Key West fishing trip early from any mobile device to reserve your spot and avoid disappointment.
Read More