Cooling Temps Activate the Key West Backcountry Fishing
Cooling Temps Activate the Key West Backcountry Fishing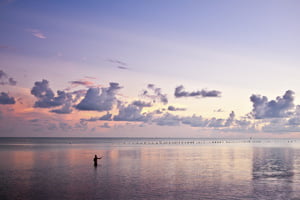 The mild weather and cool breezes of fall bring great Key West fishing action. The last weeks of September generally bring on the transition to autumn down in Key West. We get strong winds, multiple rainy days, and high temperatures that consistently stay below the 90s. This combination lights up the fishing, and October nearly always produces some great days on the water.
The Key West Flats & Backcountry: Chasing The Big Three
Cooling water in the shallows turns the Flats fishing on, so October is often an excellent month for Bonefish and Permit. And fishermen who get out on the Flats early and work the channels have an excellent chance to hook up with a resident Tarpon then follow through with a Bonefish and a Permit for a Keys Grand Slam.
When it rains and the water temps drop into the 80s, nice juvenile Tarpon can be caught up and down the Keys. Tarpon fishermen looking for those fall fish should check the Backcountry to the west and east of Key West. Some days are still good for fly fishing, and throwing artificial baits with spinning gear will also work. The more it cools down, the farther into the day the Tarpon bite will hold up, and fishing incoming tides that flush cool water into the Backcountry will also up your odds.
Multi-Species Light Tackle Fishing
You'll find great Backcountry multispecies fishing action heating up as the water cools down. Mangrove Snapper move back into the shallow channels and around the islands. Blue Runners, Jack Crevalle, and Yellow Jacks can be found in schools and ready to hit anything you toss at them. For shark fishing fans, it's usually easy – these predators will home in on any struggling and bloody fish, leaving you with nothing on the hook by the time you reel it in.
Plenty of calm days with the mild wind and water conditions that make it easy to get out on the reef reward anglers with some good eating fish. A common October mix of light rain, plenty of sun, and warm temperatures work to turn reef fishing on for Snapper and Grouper. Both of these species are at the top of the list for meat fish, and they are delicious almost any way you want to cook them. Flag Yellowtail Snappers of 3-5 lbs. are a fairly common prize, and Mangrove Snappers can run up to 20 lbs. Add a few nice Grouper to the fish box and you are set for some great dinners.
Key West Offshore Fishing in the Fall
Offshore, the Mahi-Mahi fishing will hold up well during calm weather, and the days between October rain storms can bring out some big fish. If you are looking for fast and furious action, this is the time of year when Blackfin Tuna schools show up on the Atlantic side of Key West. These high-speed ocean torpedoes can be found both over wrecks and in the open water. The formula is simple: Locate a school of Blackfin, chum them in, and try to fill the fish boxes with meat before your arms get tired.
Summer is Gone But Key West Fishing Stays Strong
Even though summer is over, you can expect Key West sportfishing to remain strong right through fall as the southern waters stay warm and seasonal fish hang around for several more months. And when the cool fronts do start to come in, expect the inshore fishing to get hot as baitfish crowd in inshore seeking warmer waters to feed in.
When leaves are falling back home, you should experience autumn on the water. Reserve an October charter with Fish Key West and get ready to have a great time fishing Key West.
Read More
Tournament Tested This fishing charter is popular and consistently gets 5-star reviews.