Hot Summer Coming on for Key West Fishing
Hot Summer Coming on for Key West Fishing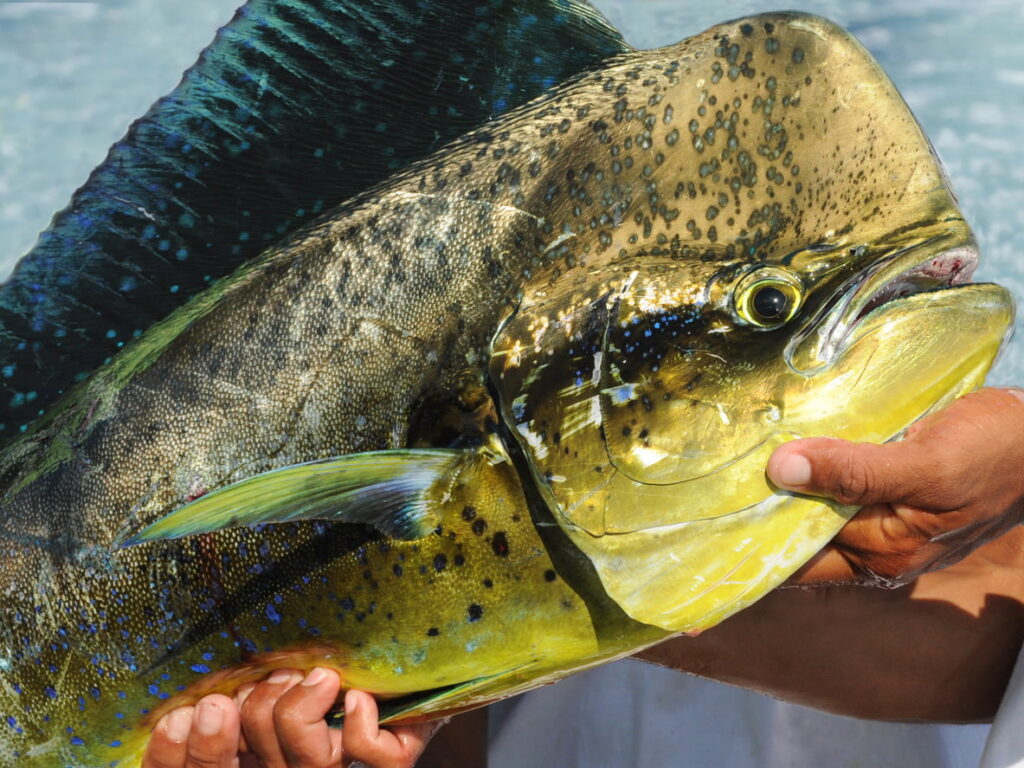 Greetings from Key West! As we finish up April down here in America's Caribbean paradise, winter may be clinging on in other parts of the country. But for Key Westers, April most often means enjoying unbroken weeks of temps in the mid to high 80s. In other words, perfect fishing weather!
The temperatures are balmy and the days of high humidity are not here yet. We are starting to get a consistent flow of warm tropical air out of the southeast – It amounts to a breeze offshore, but most days have a glassy ripple on the water rather than any hard chop.
Summer is coming on in the Keys and Key West fishing is heating up as rapidly as the weather.  In the Backcountry, on the reef, and offshore, Key West April fishing is good all over the marine landscape, with a wide variety of species on the move and bending rods.
Spring Offshore Fishing – Mahi-Mahi & Marlin
One thing the warmer weather of late April signals is the Mahi-Mahi bite. It is gathering momentum on the Key West deep sea fishing grounds and captains are reporting good early-season Mahi fishing to go along with the still-hot Sailfish bite.
Mahi-Mahi, also called Dolphin or Dorado, are plentiful in season in Key West waters. They are exciting and beautiful fish, not difficult to catch. Naturally, Mahi are a staple of late spring/early summer fishing tournaments up and down the Florida Keys. There are many Dolphin fishing competitions to choose from, particularly in May and June, and every year, hundreds of fishermen and captains vie for hundreds of thousands of dollars in cash prizes as well as boats, motors, fishing tackle, and accessories.
In April, we get lots of smaller schoolie Dolphin hanging around and feeding under offshore weed masses and other flotsam, and a few of the larger Bulls and Cows also start showing up on the docks. More big fish will be arriving in Key West waters as summer comes in. Mahi-Mahi hit both lures and live baits and if the big ones are still scarce, there is plenty of fun to be had catching the smaller fish on light tackle and they are delicious on the grill.
As an added attraction, April and May bring more of the Blue and White Marlin that are always tracking the small Mahi-Mahi. This opens up the possibility that an everyday Mahi fishing trip will turn into the trophy fight of a fishing lifetime for the angler lucky enough to cross paths with one of these legendary gamefish. There are fair numbers of Marlin in the waters between the Keys and Cuba, and a catch-and-release fishery helps support the species that for decades has been a prime attraction for celebrities like Ernest Hemingway and Lee Marvin as well as serious sport fishermen from around the world.
The Keys Grouper Opener
The other big spring event on the Key West fishing scene is the May 1st opening of Grouper season in the south Atlantic and Monroe County Gulf waters around the Keys. Bottom fishing aficionados flock south to go after these hard-fighting, good-eating fish.
Whether you go out for Black Grouper, Gags, Reds, or any of the many other Grouper species, fun is almost guaranteed. These hungry fish hit most any bait, live or cut, and severely test tackle as well as a fisherman's strength and willpower. Wrecks, rock piles, and hard bottoms with cracks and ledges will all hold Grouper, and it will be up to you to keep the fish out of that structure once you are hooked up. Be sure to bring extra leaders and rigs.
And remember, when fishing the wrecks, you never know what is down there waiting to hit your bait. African Pompano, Amberjack, various types of Snapper and many other species will put your fighting skills to the test. There is often so many Sharks around that you will be challenged to get a hooked fish up before another hungry predator grabs it.
The Tarpon are Coming!
As a backdrop to all the other great fishing going on, the Keys Tarpon season is kicking into full swing and the fish are biting. Captains are reporting hundreds of fish in Key West harbor and excellent fishing in the deeper channels throughout the Keys. Multiple hookups and jumps in one outing have been common around Key West the past couple of weeks, and the action should keep going strong through the month. The Permit fishing has also been good, and there is still time to get out on the wrecks to drop a live crab or shrimp down and catch a big Permit the easy way before the fish move onto the Flats for the summer.
Ask the Easter Bunny for a Key West April Fishing Trip
After a hard winter, there is nothing better than fishing in Key West with blue skies overhead and warm breezes on your skin. A full day out chasing Dolphin on a Key West deep sea fishing charter will help rebuild your vitamin D supply. Come down early in April if you want to avoid the crowds that show up in the heart of the May Tarpon season. Or plan a May trip and beat the crowds by going offshore for some Grouper fishing.
It's all good this time of year in Key West. Experience some of the world's best saltwater gamefishing – Let Fish Key West help you plan and book a Key West fishing adventure this spring.
Read More
Based on our booking data from the past 30 days, this charter is likely to sell out through Fish Key West.

Tournament Tested This fishing charter is popular and consistently gets 5-star reviews.

Based on our booking data from the past 30 days, this charter is likely to sell out through Fish Key West.

Tournament Tested This fishing charter is popular and consistently gets 5-star reviews.