Key West Deep Sea Fishing – December Offers Cool Weather Catches
Key West Deep Sea Fishing – December Offers Cool Weather Catches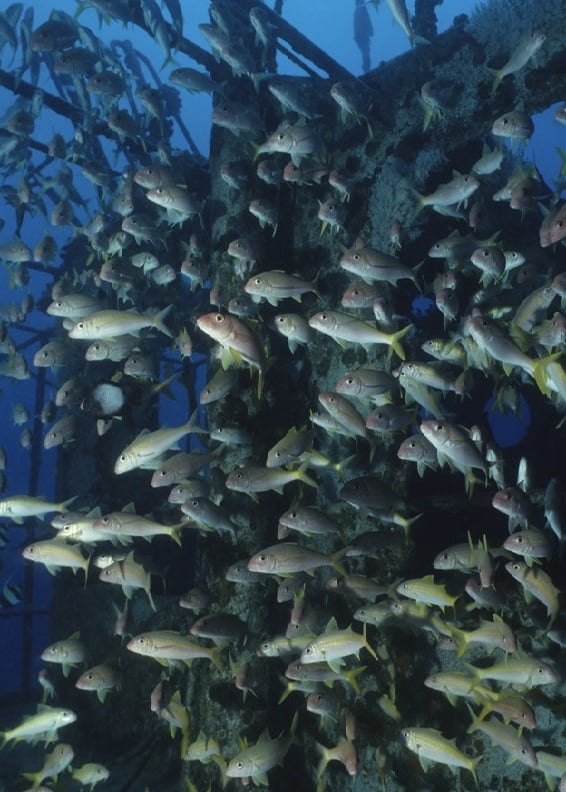 While things freeze up across most of the U.S. mainland, December in Key West usually means temperatures steady in the low 70s along with mild winds. Conditions like this bring on good Key West December fishing conditions, and with the holiday season coming on town is lively and exciting as well.
Having cold fronts push through every couple weeks or so is a common pattern this time of year. It can get breezy offshore when this happens, and we may get some rain as well. But the aftermath of these fronts is most often baitfish on the move and gamefish on the feed, so this time of year can be very favorable for Key West sportfishing.
Cool Water, Hot Key West December Fishing
As the weather cools in late fall/early winter, lowering water temperatures push a lot of bait into the shallows, making for near constant action in the Backcountry and on the patch reefs. When a cold front rolls through, the shallow Backcountry water cools off fast, and the fish go a little dormant. After the front passes and the water begins to heat back up, the fish get activated and they are hungry.
This is when the deeper basins and channels are the place to find a wide variety of fish kegged up in the warm water, and we get good fishing for Cobia, Yellow Jacks and Jack Crevalle, big Mangrove Snapper, Mackerel, and Sharks. It is also not unusual to have guides reporting encounters with some of the resident Tarpon rolling in the channels. Once the water temps climb back into the 70s after a front, the grass flats start producing Sea Trout again, and Ladyfish, Pompano, Snappers, and even Snook can be found if you know where to look.
Besides fishing the Backcountry, fishermen looking to beat the wind and waves that come with the December cold fronts can work the inshore patch reefs. When the Snapper and Grouper go on the bite, you can have plenty of light tackle fun and fill freezer bags with nice filets.
On the calm days after a front has passed through, a popular strategy is to hit the patch reefs with live pilchards, pinfish, or jigs, limit on Snapper and Grouper, then head out to the reef edge to go for pelagic fish. Kite fishing with live bait works well on the Sailfish this time of year, and it is not unusual to get multiple hook ups on Sails.
The Wahoo come in this month, and the full moon will bring them out in force. It's common to see fish in the 50lb range come into the docks. As the water temperatures go down, the offshore fishing will only get better as each cold front brings a push of bait to the reef, followed by Mahi-Mahi, Blackfin Tuna, Kingfish, Sailfish, Wahoo, and loads of Bonito.
Reeling on the Wrecks
Between December cold fronts, we often get flat calm spells that are ideal for anchoring up over a wreck and hauling in fish nonstop all day. Anything goes out there, from Amberjacks and Barracuda, to Cobia, Kingfish, Mahi-Mahi, Snappers, and Sharks. The Black Grouper bite gets hot and anglers take full advantage before the Atlantic closure at the end of the month. Grouper in the 20 lb. range are a common sight.
The Cobia are schooling up over the wrecks now, and when they are in a big school Cobia will get very aggressive towards any live bait that drops in front of them. If there are a lot of fish together, hook a medium or large pinfish through the lip or just in front of the dorsal fin and throw it right in front of them.
Permit is another species that is schooling on the wrecks now. They may be a little spookier than some of the other fish down there, but if your captain drifts up on the wreck slow and quiet, you can usually get one to come out of the school and hit a live crab if you cast it out in front of them.
Speaking of schooling fish, hungry Sharks will quickly crowd around once a few fish are hooked and dragged up through the water column over a wreck. They can get to be a real problem, and you might have to move to another wreck after big Bull Sharks, Lemon Sharks, and Blacktips start to rip fish off your hook time after time. Or you can go on the offensive and catch some of the toothy critters. It's a lot of fun to fight 300lb Bull Sharks or big Hammerheads and get them boatside for pictures.
Have a Merry Christmas Fishing Key West
The Christmas season in Key West usually delivers some good fishing. Temperatures in the high 70s, with maybe a couple of passing thunderstorms to watch out for are a welcome relief from harsh winter conditions up north.
With a lot of bait in the water, the reef fishing gets good. Lots of big Mutton Snapper and limits of Yellowtail Snapper keep the light rods bent and dinner on the table, and multitudes of Cero Mackerel keep the action going between Snapper bites.
For those who are nervous about getting seasick out on the reef, the Backcountry offers some exciting times live bait fishing or casting plugs and lures to Sea Trout, fighting Jacks, or fast and acrobatic Ladyfish. And if you are up for a real tug of war, there are always some big Sharks cruising the channels looking for a meal.
But December means hotels fill up fast with the usual crowds of winter refugees, and the charter bookings go quick as well, so don't wait too long to get your winter fishing break set up. Use the secure booking system offered by Fish Key West to reserve your Key West December Fishing trip.
Read More
Based on our booking data from the past 30 days, this charter is likely to sell out through Fish Key West.

Tournament Tested This fishing charter is popular and consistently gets 5-star reviews.

Based on our booking data from the past 30 days, this charter is likely to sell out through Fish Key West.

Tournament Tested This fishing charter is popular and consistently gets 5-star reviews.

Based on our booking data from the past 30 days, this charter is likely to sell out through Fish Key West.