Cooling Temps Heat Up the Key West Winter Fishing
Cooling Temps Heat Up the Key West Winter Fishing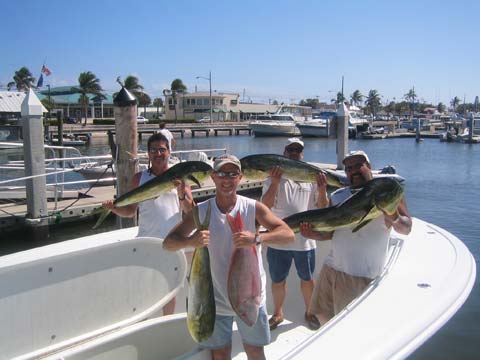 People tend to think that sub-tropical Key West has no distinct seasons. To some extent, they are correct – you see no colorful leaves or frosted windows in the Keys. There is a definite lack of spring mud under bare trees that will later bud young green leaves as crocus and daffodils push up around the edges of melting snow banks.
But we do have something on the island that is even better, especially if you are a true lover of fishing – There are very definite Key West fishing seasons, and winter is probably the best of them.
While you will see more blustery days and rough water in winter, the number and variety of fish moving into Key West waters at this time of year more than make up for the bad weather. As the water cools and migrating baitfish begin to stack up on the reef on their way inshore to find warmer water, predatory gamefish gather for the feast.
On the bottom, the Grouper and Snapper are numerous and easy to catch. On the top of the reef, thick schools of ballyhoo and cooler winds from the north draw the Cero Mackerel and Sailfish in to the shallow water. At times, you will see Sailfish attacking on the surface. The baitfish spray across the water as thousands churn and leap in a frenzy to escape the hungry Sails slashing into their schools. When a captain finds this condition, it makes for exciting angling as fishermen cast directly into the pack of feeding Sailfish.
December Brings Sailfish and More Offshore
The waters offshore of Key West on the Atlantic side produce good numbers of Sailfish in early winter. If the ballyhoo are not thick yet, live threadfin herring works well to bring the bites at depths from 130 to 180 feet. When the winds switch to the south, boats can hit the Mahi-Mahi that feed about 6 miles offshore in the Gulf Stream. As the water warms, look for the weed lines along the edge of the current to provide consistent action on Mahi-Mahi. They are mostly in the smaller sizes, but you may come across the occasional nice bull or cow as well.
Watch for hurricanes and fall tropical storms that hit Central America. They produce loads of organic flotsam like tree trunks, branches, and root balls. This debris drifts into the weed lines and draws a lot of baitfish, which in turn bring in large numbers of Blackfin Tuna, Skipjacks, and Wahoo along with the Mahi. When we get the big push of warm air and water from the large equatorial storm systems, summer-like offshore action can return and a lot of big Mahi-Mahi and even Blue Marlin show up to chase bait spreads being trolled along the weed lines.
On the deep water wrecks, the Amberjacks, Tuna, and Sharks are in feeding in large numbers and provide plenty of hard-pulling action. There are also a lot of big Permits spawning on the wrecks and these sizeable fish have the strength to put up a monumental fight when they are hooked. Wreck fishing will also produce Cobia this time of year. These are large, good-eating fish if you are looking to fill the freezer with some winter meat. The same goes for Mackerel because all three species: King, Cero, and Spanish are in and ready to eat anything that resembles a baitfish.
Key West Winter Flats Fishing is Fine
During the windows of good weather, the water calms down enough to make for some very beautiful and enjoyable days on the Key West Flats. The cooling Backcountry water thins the Tarpon numbers as they pull back into the channels to find more stable temperature conditions. They are replaced by a lot of large Sharks and incoming Barracuda, Redfish, and Seatrout.
Winter in the Backcountry offers the table fisherman a great opportunity to build up a nice stock of fillets, with the Pompano, Redfish, Trout, and Mangrove Snapper all plentiful and easy to catch. This type of fishing makes a good option on the days when the offshore waters are too rough for comfort. When you can get offshore, the reef is also a food fish buffet well-stocked with nice filleting species like Grouper, Mutton Snapper, and Yellowtail Snapper.
Don't Miss the Key West Winter Fishing Season
The winter fishing is great in Key West, and in December the town starts filling up with seasonal visitors and getting lively. There are many special events this month that are fun to plan a trip around. The Key West fishing charter boats do fill up during this busy season, so it is wise to plan ahead.
Whether you want to combine some warm weather holiday festivities with a bit of fishing, or come in the quieter days after New Years for a relaxed time on the water, it's all good in Key West. Just come on down – Fish Key West will get you into some warm water and hot fishing.
Read More
Based on our booking data from the past 30 days, this charter is likely to sell out through Fish Key West.

Tournament Tested This fishing charter is popular and consistently gets 5-star reviews.

Based on our booking data from the past 30 days, this charter is likely to sell out through Fish Key West.

Tournament Tested This fishing charter is popular and consistently gets 5-star reviews.