Key West Fishing Gets Hot in December
Key West Fishing Gets Hot in December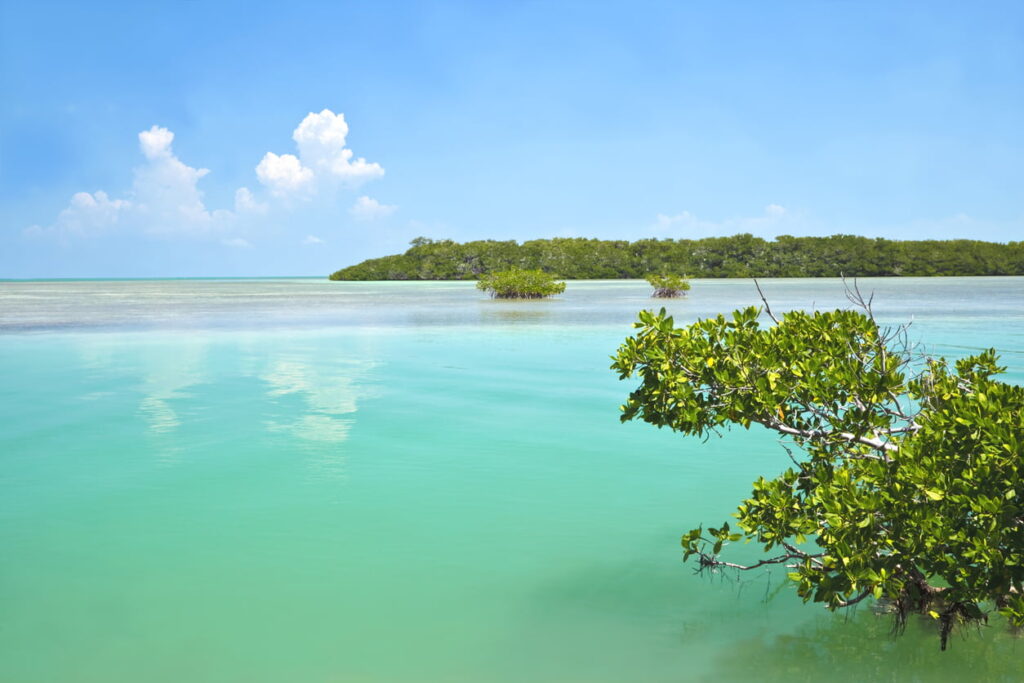 December marks the beginning of a new season of Key West fishing. The blustery weather of November ends and things begin to stabilize with the new cooler air and water temps pushing huge schools of baitfish inshore.
That's where predators like Snapper and Grouper hunt on the wrecks and reefs, Tarpon and other gamefish feast on the Flats, and big Sharks move into the Key West Backcountry on patrol for any hint of blood or struggling fish in the water.
The transition to winter is an exciting time for Key West fishermen. There are lots of big fish and plenty of rod-bending action to be had all through December. If you are looking for nice weather and a broad variety of angling opportunities, consider planning a December Key West fishing trip.
Backcountry Bites
Early December can still offer good conditions for Key West Flats fishing if you want to go on the hunt for baby Tarpon, Bonefish, and Permit. On the days that don't warm up quite enough to get the Bonefish and Permit up on top of the Flats, you can fish the Backcountry channels. They swarm with Sea Trout, huge Barracuda, Mackerel, Ladyfish, and nice sized Mangrove Snapper, making it easy to find some hot multispecies fishing fun.
As we get into the winter, fast action with big, hard-fighting Backcountry predators picks up nicely. Large Sharks move in from deep water, and schools of hunting Jacks go wild chasing the pilchards that run inshore this time of year. Sharks respond quickly to any bloody live or chunk bait, and the Jacks readily hit lures cast into their feeding school. Between these two aggressive species, you can get into some non-stop sport fishing excitement.
Offshore Adventures
Offshore troll fishing for Mahi slows down this time of year. However, depending on conditions and an angler's willingness to run about 15-25 miles out, a strong Gulf Stream current and the seasonal push of baitfish toward shore can still offer possibilities with this colorful, exciting species. Mahi catches tend to run toward some bigger fish in this far offshore early winter scenario. The trick is to get way out there and find the right chunk of floating debris that is holding some fish.
While Mahi season is coming to a close, December means the Sailfishing will be picking up. By the middle of the month, it is not unusual to find days with captains reporting multiple releases. The Sailfish run comes on stronger as we go into winter, and good boats book up quickly. Late fall is probably the time to start planning your trip if you have ever wanted to go after this spectacular species.
Wreck and Reef Action
December trips out to the wrecks and reef are a great call for consistent mixed-species action and productive dinner-table fishing. Schools of baitfish are moving through and the gamefish spend a lot of time actively feeding. This makes for simple, relaxing fishing that is perfect for novices or younger anglers. All you have to do is drop a line over the side and get ready to fight because chumming a mess of ballyhoo over an offshore wreck usually stirs up more fish than you can crank in.
Baiting up with ballyhoo also produces well over the reef during this winter transition period, or try a jig tipped with a strip of squid or bonita. You have the opportunity to make solid catches of big Yellowtail Snapper, with maybe a few Gray Snapper and some Red Grouper mixed in. This means a delicious fresh fish dinner back on shore and a nice batch of fillets for the freezer. Fans of tasty fish for the table can also expect the Grouper fishing to pick up in December as temperatures drop and baitfish movement increases.
If you are looking to do some troll fishing without having to run so far offshore, Cero Mackerel, Kingfish, and the occasional Wahoo can be found patrolling the reef and the waters just outside. Trolling ballyhoo or squid is a good bet for these fast-running pelagic species.
December Key West Fishing Dreams
Early winter is an excellent time to come down for some Key West fishing. Activity in town is picking up, and the festive atmosphere is building. Weather and water are in a state of change and the variety of good fishing possibilities is at a high point.
Maybe consider putting together a dream trip – something out of the ordinary. Target the huge sharks that appear in the Backcountry and over the offshore humps. Hook a big Lemon Shark, or tie into one of the Bull Sharks that can run to 300 pounds. Or hit the waters bit north of Key West, run way offshore, and fish deep for the amazing Swordfish. These incredible fish are most often caught at night, and a night-time deep water Swordfishing trip is an adventure that every offshore angler should experience at least once.
Key West sportfishing is the ultimate any time of year, but when the December cold fronts move in, you get some seriously hot fishing. Early in the month is also a time to catch good deals at the hotels, and it's not difficult to find Key West charter captains with space available. Stop dreaming and get to some December Key West fishing – Book your trip now with the original Fish Key West.
Read More