Summertime Fun with Key West June Fishing
Summertime Fun with Key West June Fishing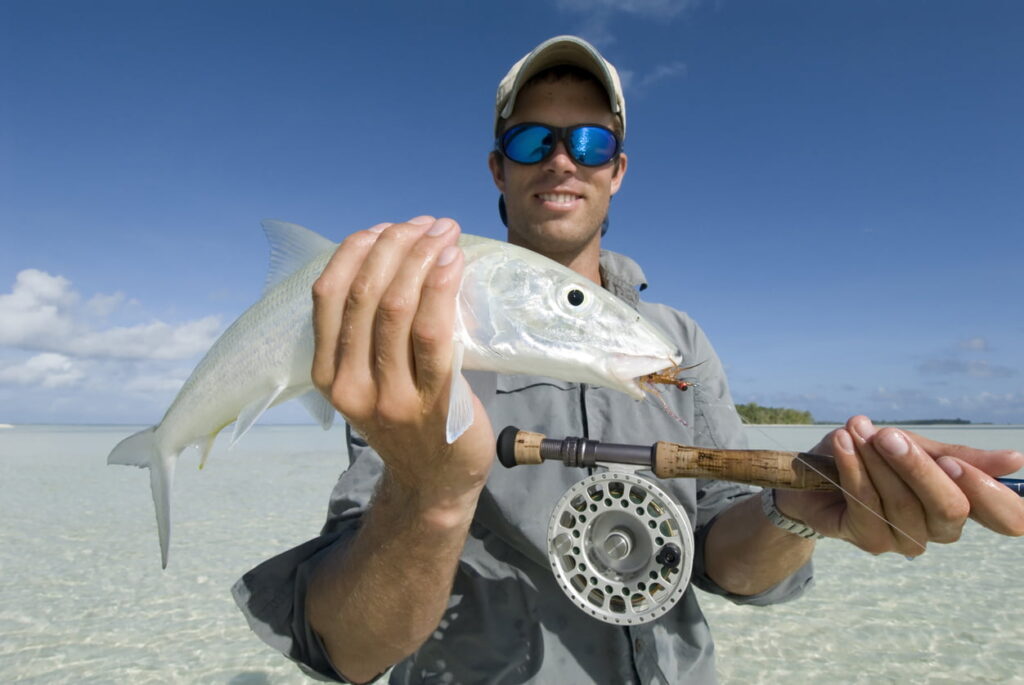 Summer is here in Key West with high temperatures, low crowding, and a few showers to keep things cool. It's a recipe for fantastic June fishing. Everywhere is pretty good this time of year, with a few Sailfish still on the reef edges, the Flats alive with Permit, Bonefish, and Tarpon, tons of Mahi-Mahi offshore, and the Key West wreck fishing heating up with the summer spawning season.
June is a lovely time to visit Key West and get in some fishing. Spring/summer transition effects are still producing the change-ups in water conditions that get gamefish moving and feeding. There is a wide variety of fishing possibilities to take advantage of and the relatively low air temps and humidity levels make it a pleasure to spend the day on the water. A little Key West June fishing is the perfect way to shake off winter.
Key West Flats Fishing Warms Up for Summer
Key West Flats Fishing can be very good in June. We benefit from the full moon and the cooling effect of still-chilly offshore waters pushed in by high tides. A lack of crowds is another plus factor, with fishing pressure reduced by the low visitor numbers of the Keys' offseason and the absence of many guides who take the summer off to fish northern climes.
Permit and a few Bonefish are present on the Flats east of Key West. The flat calm water that can come with mild June weather is nice for running out, but it can make it hard to get close to the fish. Permit in particular are much easier to cast to when there is a breeze driving a little chop on the water. In calm water, it is much more important to be able to place the bait or fly in front of the fish with as little disturbance as possible. This is where is silent Flats skiff and an expert Key West fishing guide on the pole make the difference.
There is also some great Tarpon fishing happening on the Flats. Large numbers of fish and reduced fishing pressure add up to good results for Key West captains and their guests. Soft artificial baits and crabs both work well on the Flats for fishermen who get out on the water for the sunrise. The Tarpon bite can really turn on the day of the full moon, with the morning bite sometimes lasting most of the day.
The Key West Harbor also produces well on June Tarpon. Drifting baits on the slack tide or anchoring and chumming are both good for near-guaranteed hook-ups with the Silverkings. Using plenty of shrimp boat by-catch for chum and live pinfish and crabs for bait are the way to go. We get lots of fast action happening aboard the charters in June, and Tarpon up to 125lbs along with good catches of Snapper and Grouper are common events.
Classic June Marlin Tournament Action
With Cuba now opening up to American tourism, a perennial June highlight well worth keeping an eye on in Key West is the Ernest Hemingway International Billfish Tournament. The tournament was established in 1950 by author and avid Key West sport fisherman Ernest Hemingway. Hosted out of Marina Hemingway, 9 miles west of Havana Cuba, the Hemingway International is one of the oldest saltwater big-game fishing contests in the world.
The tournament was inaugurated on May 26, 1950 when 36 of Havana's best fishing boats left Havana harbor on the hunt for big fish out in the Gulf Stream. One of those boats was the Pilar, built and owned by Ernest Hemingway. Hemingway fished that first tournament representing the International Yacht Club de La Habana. In recognition of the writer's dedication to big game fishing, a group of fisherman proposed naming the tournament after him. Hemingway agreed and sealed the deal by winning the first 3 editions of the contest, much to the dismay of locals who had been fishing the same waters for decades.
This catch-and-release tournament draws teams of fishermen from around the world ready pit their skills against Dolphin, Marlin, Tuna, and Wahoo using up to 80-pound test line. Tournament anglers have contributed much to marine conservation efforts by tagging and releasing hundreds of Blue and White Marlin as well as big Mahi-Mahi and even the occasional Bluefin Tuna.
Hemingway Makes History as a Fishing Diplomat
A classic deep sea fishing story relates how Hemingway made history in 1960 when the U.S. government broke off relations with Cuba and he defied orders to leave the island where he had lived and fished for 22 years. Although Hemingway prided himself on being loyal to his own country, when warned by U.S. Ambassador Philip Bonsal that he should leave, Hemingway did not abandon his residence or speak out against Fidel Castro.
Instead he invited Castro and Che Guevara to fish in the annual Hemingway Marlin Fishing Tournament, scheduled for May 16, 1960. The tournament attracted sports enthusiasts from across the world to one of the first international events since the Cuban Revolution. Hemingway fraternized with the young revolutionaries and allowed reporters to photograph him by Castro's side.
Fidel Castro was not a fisherman but he enjoyed some beginner's luck, managing to hook two Marlin the first day and another the second. That first day, Mary and Ernest Hemingway were aboard the Pilar watching through their binoculars as Fidel fished and Che read Stendhal's Le rouge et le noir. The couple could hardly believe their eyes when Fidel brought the two marlins in and stopped the deck hand from gaffing the fish until Fidel himself could grasp the leader as the rules specified.
Fidel managed to win numerous individual prizes and later got to meet one of his heroes at the awards ceremony: Ernest Hemingway, the Nobel Prize winner who had been gallant enough to support his cause. Castro took the silver trophy cup presented by the writer that evening at the dock.
We congratulate the angler-diplomats of the Hemingway International and hope that the sporting spirit and love for big, beautiful gamefish shared by fishermen of all nations will keep the fishing and friendship growing until the excellent fishing waters between Key West and Cuba are once again fully open to Key West boats.
Capture the Spirit of Hemingway with a Key West June Fishing Expedition
Ernest Hemingway was a man's man and a consummate sportsman adventurer. You can visit his home, drink where he drank, and fish in his footsteps. June is a wonderful time to do it because the town atmosphere is cool and mellow while the waters offshore are ripe with summer potential.
If you have ever wanted to match wits with a prehistoric Tarpon in glass-clear shallow water or feel the arm-cramping run of a Sailfish, Wahoo, or Marlin, make this June your time for an unforgettable Key West fishing adventure. Rely on Fish Key West for secure, convenient booking then get ready to hit the water.
Read More
Based on our booking data from the past 30 days, this charter is likely to sell out through Fish Key West.

Tournament Tested This fishing charter is popular and consistently gets 5-star reviews.

Based on our booking data from the past 30 days, this charter is likely to sell out through Fish Key West.

Tournament Tested This fishing charter is popular and consistently gets 5-star reviews.

Based on our booking data from the past 30 days, this charter is likely to sell out through Fish Key West.

Tournament Tested This fishing charter is popular and consistently gets 5-star reviews.