Key West Sport Fishing in February: Showing the Love
Key West Sport Fishing in February: Showing the Love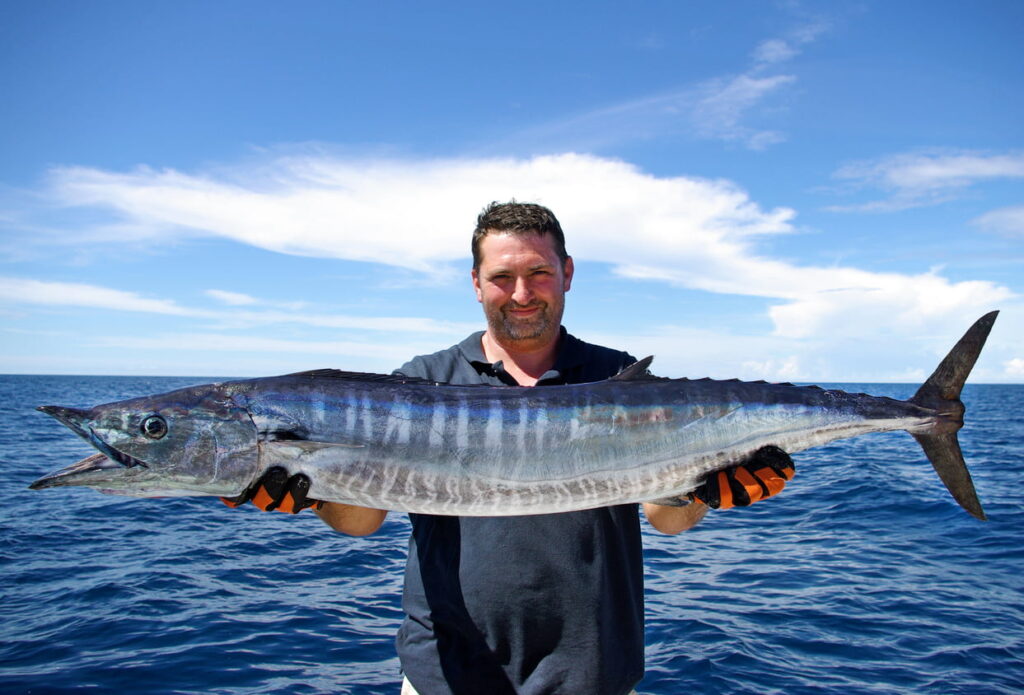 February brings a big freeze-up in most places, but down here in the Florida Keys sportfishing often gets on a hot streak in January and February. The reef, the wrecks, and the Backcountry can really turn on this time of year. The offshore deep sea fishing takes some patience and looking around, but with the Gulf Stream running warm and blue and pulling in close to the south shore of Key West, the pelagic gamefish are there in numbers once you find them.
If you are looking for a break from winter, some Key West February fishing is just the ticket. It is not uncommon in Key West to get temperatures in the mid to high 70′s or even touching 80 a couple of times. February is a kind of in-between month in Key West. Mid-winter crowds are gone, and the craziness of March spring break time and the beginning of Bonefish and Permit fishing on the Flats is still on the horizon. It's a good time to plan a Key West February fishing trip.
Winter Wahoo
When we get a February warm spell down here and the water temps move up around 75 to 78 degrees, it is not uncommon to see nice catches of Wahoo coming into the docks. This awesome tropical gamefish is related to the Kingfish, and looks somewhat similar. Wahoo are one of the fastest fish in the ocean and have been clocked at 60 mph. Wahoo average around 30 lbs but can go over 100lbs and when you have this much weight and speed on the end of a fishing line, you have a serious fight on your hands.
There are always a few of these fish cruising the Key West waters, but the February full moon seems to bring on good winter Wahoo fishing. Live bait fishing around structure or exciting high-speed trolling is the way to take Wahoo.
Small to mid-size schools of juvenile Wahoo are often found congregated around structures like oil platform towers and the Gulf of Mexico Air Force communication towers. Perhaps because they are ambush feeders, Wahoo near structure seem to be more active in dim light. Dawn to early morning, and late afternoon to near sunset are good, especially on an outgoing tide. Night fishing is also gaining popularity with serious Wahoo fishermen.
Trolling with plugs and Wahoo lures is thrilling because the fish seem to react best to speeds of 10 to 20 knots or more. Deep-running plugs or heavy cigar sinkers set a few yards in front of the wire leader help get the lines down below the wake. Many Wahoo anglers run lines at different lengths and depths by using downriggers and planers. The troll speeds involved and the power of this fish call for the use of heavy Wahoo fishing tackle.
Besides being fun to catch, Wahoo are very nice eating fish. Tasty and mild flavored, Wahoo fillets are excellent grilled or broiled, and this fish is often used in fish taco recipes. The months of November through February bring water temperatures that are ideal for Wahoo, so consider a winter Key West fishing trip if you want to try some Wahoo fishing.
Backcountry Cuda Capers
For some Backcountry fun with the toothy predator known as the Great Barracuda, arrange to come down and fish the Flats with a Key West charter captain in the Key West Cuda Bowl Barracuda Tournament in the last week of January or first week in February. This annual event sends guests and guides out to catch and release as many big Barracuda as possible, with winners determined by the total inches of fish released. Spin and fly fishing divisions along with ladies and junior divisions open up plenty of opportunities for a diversity of anglers to participate in this fun event.
Barracuda are an aggressive fish, ready to hit fluorescent rubber tube lures or any shiny lure. They can also be caught on wet flies. Watching one blast a lure in shallow water then struggling to get the hook set in its hard mouth and keep the fish on is one of the more thrilling experiences out there. It is not unusual to get Barracuda from 3 to 4 feet in length, so the fight can be substantial, particularly on a fly rod.
If the Barracuda don't want to bite, Cobia are another popular seasonal fish that appear on the Flats this time of year and stay until late spring. A migratory warm-water species that begins to move through Key West waters in January, Cobia can always be found on the shipwrecks in the Gulf and Atlantic. But on days with warming temperatures and winds out of the south, they are often spotted in the shallows following sharks, stingrays, and turtles.
Cobia feed on crabs, shrimp, and squid. They like to scavenge the food that larger animals stir up. In shallow water or near the surface, Cobia are easy to spot with their distinctive shark-like profile and bold brown stripe down the length of their bodies. These delicious, hard-fighting fish can grow up to 6 feet long and 100lbs, but most Cobia caught around Key West run in the 50-pound range.
Plan a Key West February Fishing Trip with Fish Key West
If you are up north and need to break the grip of cold, dark winter, or if you are lucky enough to already be visiting Key West by car or cruise ship, go on a Key West charter fishing adventure. Whether you take advantage of a few dry, sunny days to go out Deep Sea fishing in the Atlantic or Gulf of Mexico, or head into the Backcountry after anything from Barracuda to Sharks, nothing matches Key West fishing.
Spring is on the horizon down here in Key West, and as the warmer weather hits the fishing crowds will soon be picking back up both offshore and on the Flats. So if you want to have all the fish to yourself on a February off-season trip, now is the time to reserve your spot on Fish Key West for some Key West sport fishing.
Read More
Based on our booking data from the past 30 days, this charter is likely to sell out through Fish Key West.

Tournament Tested This fishing charter is popular and consistently gets 5-star reviews.

Based on our booking data from the past 30 days, this charter is likely to sell out through Fish Key West.

Tournament Tested This fishing charter is popular and consistently gets 5-star reviews.

Based on our booking data from the past 30 days, this charter is likely to sell out through Fish Key West.