Cool Weather Turns on the Key West Offshore Fishing
Cool Weather Turns on the Key West Offshore Fishing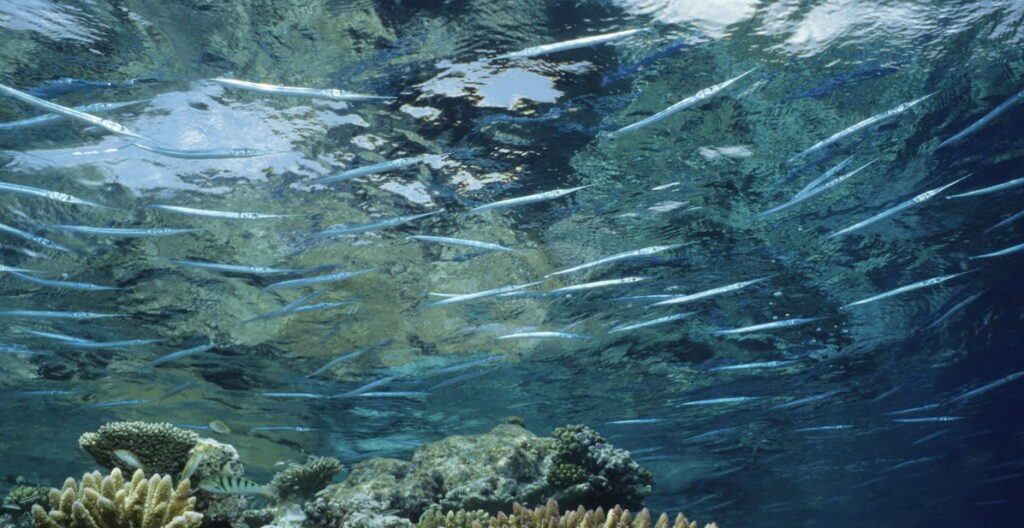 The "cold" Key West winter weather finally rolls in during January, with temperatures often getting right down into the 70's and even the high 60's at times during this deep winter month. Honestly, even though Key West is a far nicer place to be than anywhere else this time of year, for early morning trips and offshore runs on windy, cloudy days, a light jacket, a cap, and a pair of light gloves are all nice to have around along with the sunscreen.
But the cooler waters are great for the fishing, as the baitfish are driven inshore in search of the warmer water that floods in on the incoming tide. The baitfish holding in that warmer water get swept onto the Flats and into the inshore channels, drawing predators from far and near. Sharks, Jacks, and big Barracuda can be found prowling the Flats, and the shallow water guides report some great days of sight fishing that produce Barracuda, Blacktip Sharks, Lemon Sharks, and even a couple of Tarpon during the warmer spells.
Sporty Water and Slamming Sport Fishing
In a typical January pattern, we see some windy, rainy weather interspersed with sunny, calm days. The offshore fishing remains good through it all, with Gulfstream currents pushing in tight to the edge of the reef and keeping the blue water alive with Blackfin Tuna, Kingfish, Mahi-Mahi, Wahoo, and the always-plentiful Bonito, or Little Tunny.
The Blackfin bite can be counted on to stay fairly consistent throughout the month, with fish anywhere from 5 to 30lbs showing up. Ideally, you want to get out in the low-light conditions of the late afternoons and evenings. If no surface-feeding schools are in sight, look for the Tuna at depths from 120 to 300 feet, where they can be hooked up by dropping live bait, jigging, and trolling. It is common to find a few schoolie Mahi-Mahi hanging around the same areas as the Blackfin, and working the usual live bait or squid-type surface lures should put a few of them in the box.
In both the Gulf and just off the reef on the Atlantic side, migrating Kingfish are beginning to arrive. Boats are bringing them in from the edge of the reef in 50 to 130 feet of water. You can expect to see Kings in the 50-pound range around Key West fairly often. Another fun reef hunter and good eating fish, the Cero Mackerel, can be found working the schools of ballyhoo over the top of the reef right out in front of Key West.
Got Sailfish?
The Sailfish is another predator that loves ballyhoo. There are always a few sails around Key West waters, but this is the time of year when south-bound migrating fish begin showing up in numbers. The Sailfish bite comes on hard when the weather gets rough and the ballyhoo flood the reef and surrounding waters. If you are ready to stand your ground at the rail in a bit of a swell, now is the time to grab your Sailfish card.
Florida Keys Sailfishing is known to hit its peak from now through April and this fact is supported by the annual round of big tournaments scheduled to take advantage of the season. For you big game fishermen who think the good Sailfish waters are found off the exotic coastlines of Costa Rica, Panama, or Guatemala, check out these numbers: On January 10, 2019 a couple dozen boats carrying an average of four anglers each all fishing the 39th annual Pelican Yacht Club Billfish Invitational chalked up 712 Sailfish releases in a single day.
This epic action went down about 16 miles off the Pacific coastline of Florida's Brevard County, just a couple hours north of Miami. Anglers interested in this flashy, exciting sportfish would do well to arrange a Sailfish-targeted Key West deep sea charter in January or February to catch the first waves of hungry fish as they arrive here.
Stop By the Bar
On calmer winter days, fishermen up for adventure grab charters that run out to the End of the Bar. This is a fishing hole that lies about 15 miles southwest of Key West. Running parallel to and just south of the living Florida Reef, there is a submerged dead reef that ends in a steep drop-off from 60 down to 100 feet of water.
When conditions line up, the Wahoo bite turns on around a sunken submarine and a couple of other wrecks in the area. Big Wahoo running 50 to 70 pounds a not too uncommon, and there are plenty of the more typical specimens that come in around the 30- to 40-pound range.
If you have never fished Wahoo – These are some of the fastest and strongest in fish the sea, clocked at speeds over 60mph. Although they can be fished at depth, it is incredibly exciting to see a Wahoo take a trolled surface bait, and many fishermen are left with nothing but a sore arm and an empty line after the blasting high speed run of a big specimen. Boating one is a real accomplishment, and a few lucky Key West fishermen get to taste victory at the Bar every January.
A Little January Key West Fishing Makes for a Happy New Year
For the perfect mid-winter break, hit Key West after the holiday crowds die down. The serious fishermen head offshore when the winds and currents push confused bait schools around and the pelagic predators show up from the Gulf and Atlantic to converge in a Key West feeding frenzy.
It's a great time of year to bag a trophy, and the reef will always yield some dinner table fillets. If the weather really gets rough, you can always turn to the Backcountry for Sharks and a variety of other exciting possibilities. Just take advantage of our Fish Key West secure, simple eTicketing system and you can have the Key West charter fishing trip of a lifetime set up in seconds.
Read More
Based on our booking data from the past 30 days, this charter is likely to sell out through Fish Key West.

Tournament Tested This fishing charter is popular and consistently gets 5-star reviews.

Based on our booking data from the past 30 days, this charter is likely to sell out through Fish Key West.

Tournament Tested This fishing charter is popular and consistently gets 5-star reviews.